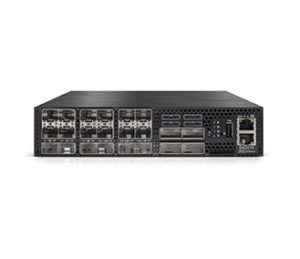 The SN2010 switch is the ideal top of rack (ToR) solution for hyperconverged and storage deployments. Packed with 18 ports of 10/25GbE and 4 splittable ports of 40/100GbE, the SN2010 can deliver up to 1.7Tb/s aggregate throughput.
All Spectrum-based switches, including the SN2010, support low-latency line rate traffic for all packet sizes and are ONIE bootable with support for Cumulus Linux, Mellanox Onyx (successor to MLNX-OS Ethernet) and other open-source operating systems with a broad installed base that drives the world's most innovative data center infrastructures.
Details
SN2010 introduces low latency for 10/25GbE and 100GbE switching, features a robust implementation of data, control and management planes, and offers the most compact form factor and lowest power consumption. SN2010 supports the same features and scale as SN2700. The SN2010 design allows either stand-alone single switch installation, or side-by-side.
Warranty
Mellanox Technologies ("Mellanox") warrants that for a period of (a) 1 year (the "Warranty Term") from the original date of shipment of the Products or (b) as otherwise provided for in the "Customer's" (as defined herein) SLA, Products as delivered will conform in all material respects to the Product specifications in effect at the time of shipment.
Price & Info
Dimensions: 4.38 x 20 x 50.8 cm
Warranty Length: 1 Year Warranty
Package Weight: 4.54 kg
Price: 8.144,25 USD + VAT