Hitachi 0F27358 8TB SAS Hard Drive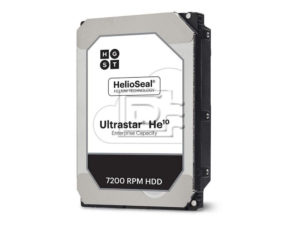 Laying the foundation for a worry-free data center, HGST delivers an exceptional capacity hard drive for the enterprise – Ultrastar He10. Designed to handle workloads up to 550TB per year, the Ultrastar He10 uses PMR technology and is the industry's first 10TB drive that is drop-in ready for any enterprise-capacity application or environment. Based on field proven, third generation HelioSeal® technology, it offers one of the lowest power profiles in the industry to help data center architects meet eco-environmental goals and requirements. Targeted at 2.5M hours MTBF, the He10 provides the highest reliability rating available of all HDDs on the market today by building on the successful design of its 8TB and 6TB predecessors. Trust HGST and Ultrastar He10 to deliver more capacity, more efficiency, more reliability and more value to your data center.
Details
Data centers are facing growing pressures. Data volume is expanding, operating costs are rising, yet budgets remain flat. Lowering the total cost of ownership (TCO) has become the focus of data center architects and the Ultrastar He10 provides the best value proposition and greatest storage efficiency available. Compared to 8TB air-filled drives, this HelioSeal hard drive provides 25% more capacity, uses 34% less idle power, is 47% more power efficient (Watts/TB), and is 25% more reliable, rated at 2.5M hours MTBF. New  features include a second-generation, dual-stage actuator — the HGST Micro-Actuator — enhancing head-positioning accuracy to deliver better performance, data integrity and overall drive reliability, especially in multi-drive environments where operational vibration is present. Refer to our HMA technical brief to learn more. A choice of 6Gb/s SATA and 12Gb/s SAS interface enables easy integration into high performance data centers. Data Durability and Security with Industry-Leading
Warranty
The product has a manufacturer warranty for 5 Years.
Price & Info
Dimensions: 8.89 x 14.6 x 2.54 cm
Warranty Length: 5 Years Warranty
Weight: 0.68 kg
Price: 101.000 HUF + VAT